Adding a Web Connector File From QB
Adding a QuickBooks Web Connector File Manually
Who is this article for:
Customers who host their QuickBooks in the cloud and need to add the web connector file manually
Customers looking to replace an existing web connector file (new computer, new admin, etc.)
---
Follow the steps below once an Hour Timesheet support rep has emailed you a QuickBooks Web Connector file (**.qwc file) with your HTS credentials. If you need to request a new web connector file, email support@hourtimesheet.com with the following information
HTS account URL
email address of the person needing to run the web connector. Note, this admin must already be a user in your existing HTS account.
---
1.Save .qwc file from email to your local computer
2. Open your QB company file and navigate to the File/Update Web Services menu
3. Click the Add an Application button
4. Locate the .qwc file saved in step 1 above and click OK to begin the process
5. An "Authorize New Web Service" screen will pop up asking you to grant HTS access to your QB company file. Click OK
6. If prompted with an application certificate allowing HTS to read and modify your company file select the Yes, Always allow access even if QuickBooks is not running (LAST RADIO BUTTON)
7. Select the Admin user from the drop down box and click Continue. At this step in the process, you should now see the HTS web connector appear in the Web Connector box
8. Enter your password that you use to login to your HTS account into the Password field
9. Click the check box next to the HTS web connector file and click the Update Selected to successfully run your new web connector file.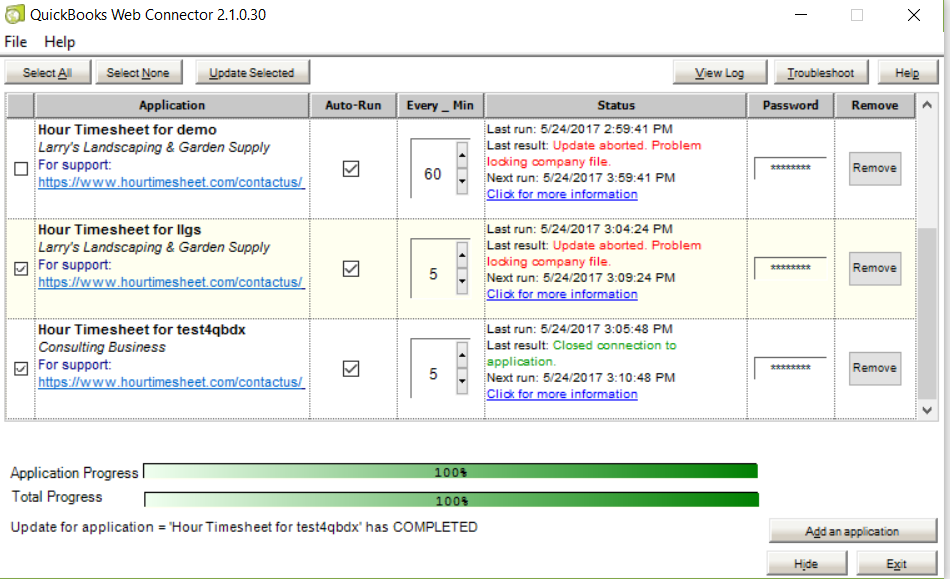 For additional instructions about installing a QuickBooks Web Connector visit here