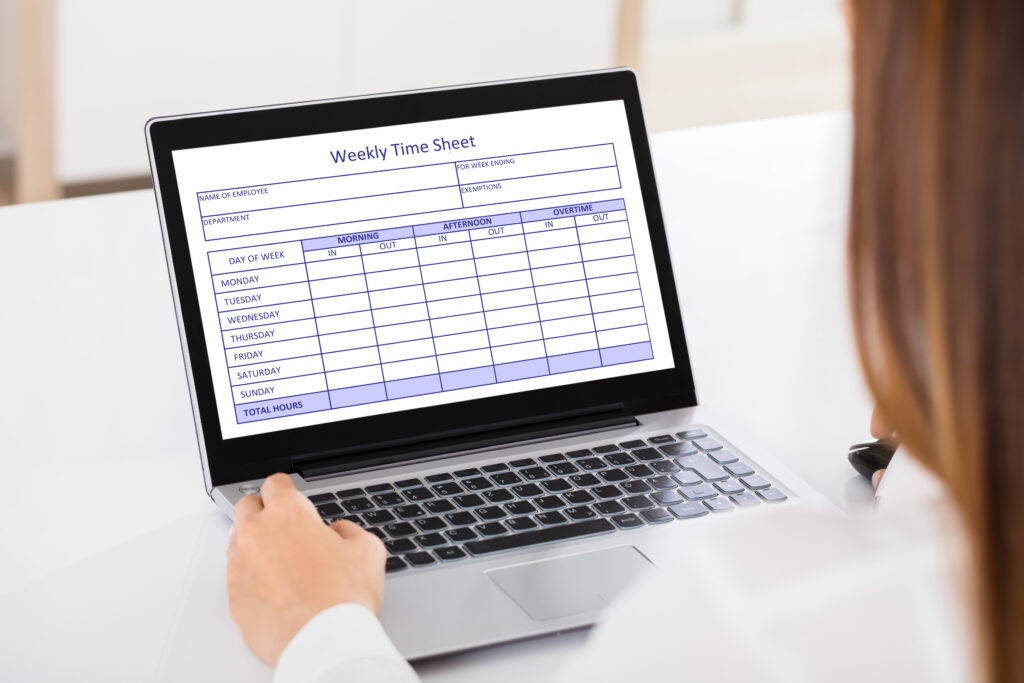 The term 'being DCAA compliant' when referring to your timekeeping procedures is often just thrown around, but if you don't understand what that means or how to verify that you are, Hour Timesheet can help.
Simply put, DCAA stands for Defense Contract Audit Agency. This is the federal government agency responsible for auditing the Department of Defense (DoD) contracts. As imagined, the DoD is very strict about its rules and regulations surrounding timekeeping. They will award contracts to businesses that use web-based timekeeping, providing the following essential requirements are met.
1. Company timekeeping procedures must be documented in a policy or procedure handbook provided to all employees.
All critical elements of an adequate timekeeping system must be addressed. Companies must provide all employees with an updated policy or procedure booklet regarding timekeeping procedures.
2. Every employee must record all of his/her time daily.
Recording hours worked in advance or days after the fact, such as at the end of the week, is not acceptable. Hour Timesheet comes equipped with reminders to all users to ensure their time is entered daily.
3. Time must be charged by the day and by project or job code and indirect cost accounts (overhead, G&A, B&P, etc.).
This is known as cost accounting, which is defined as the formal mechanism of determining and controlling products or services' costs. The primary objective of cost accounting is to determine the fair and accurate market value of an item. Then to understand the basis for fixing its selling price. From there, you need to determine what factors affect its cost control and, at the same time, its price reduction? Then identify and eliminate wastes such as materials, expenses, equipment, tools, and other items. Next, ask how to optimize the utilization of resources. Then correctly analyze the cost of both the process and operations. Once that is complete, determine the profitability of the product and help manage the maximization of these profits. Don't forget to assist in the preparation of budgets and implement budgetary control. And finally, aid management in the formulation and implementation of an incentive bonus plan based on productivity and cost savings.
4. All employees must record 100% of the time worked.
This is true on all projects to the proper job codes, whether working on a government contract or commercial work. The beauty with the Hour Timesheet app is this time can be added anywhere, whether you're working from home or the office.
5. Employees must record all indirect time not identifiable to a given project to proper indirect cost accounts (overhead, G&A, B&P, etc.)
One example of an indirect cost is overhead, which usually includes the indirect costs involved in support operations or direct production. Though these costs are directly related to a project or projects, they can't be allocated to one specific contract. This is because they overlap across many different projects. Overhead costs can vary greatly. They may include the depreciation of equipment used on multiple projects, supplies, and quality assurance shared across multiple contracts, in addition to costs like indirect labor and training.
6. Employees must record all PTO, vacation, sick, holiday, and other leave time to the proper accounts.
The good news is, with Hour Timesheet, tracking any kind of leave time such as this is very easy and keeps you DCAA compliant.
7. All job codes that appear in the timekeeping system should be initiated by accounting or the system administrator.
Project codes must be provided to employees authorized to work on a given project. Many companies use codes as opposed to the contract number to simplify the charging process for employees. To remain DCAA compliant, every charge must directly relate to a specific contract and a task within that contract.
8. All timesheet entries must be the employee's own.
Time must be recorded based on work completed, irrespective of whether the time is billable or non-billable. This must happen daily. Additionally, under no circumstances is a manager or supervisor allowed to record their employees' time unless there is an extreme situation.
9. Under no circumstance may an employee work on one project and record time to a different project.
This means that whatever work or tasks the employee completes for a specific project must be charged accurately and directly to that project. This is done to avoid falsely overcharging one project and undercharging another. Hour Timesheet can be setup to restrict which codes an employee can charge their time; therefore, an employee cannot charge to a project they have not been assigned.
10. Under no circumstance may an employee work on indirect tasks and record time as direct costs to a project, or vice versa.
An indirect task is a work that is not explicitly tied to a project. To remain DCAA, compliant employees must never charge the time it takes to complete these tasks to any project. This would violate DCAA rules and regulations.
11. Correction timesheet entries should be made by the employee and approved by the employee's supervisor.
In the unusual circumstances where the employee cannot make the changes to timesheets, then accounting or the administrator may make such changes with the employee's consent. All corrected timesheet data must be recorded in a detailed audit trail. An audit trail is critical to remaining DCAA compliant. If and when the DCAA decides to inspect your business (and they always will at some point), they will look over every time card entry from your employees with a fine-tooth comb. Thanks to your detailed audit trail, it will show them who had edited a time card after it was submitted, when the changes were made, and why. Hour Timesheet creates an uneditable audit log that will provide a locked record of all the additions, deletions, approvals, and modifications made to your employees' timesheets.
12. The employee's supervisor must approve all employee timesheet data.
To comply with DCAA compliance regulations, two signatures are required on each timesheet. Hour Timesheet allows for online signatures at both the employee and manager levels.
13. Employees should be provided documented DCAA compliance & timekeeping training, whether by formal or informal means.
Typically, this training is included in a company's new employee handbook or new-hire orientation program. Either way the employee is familiar with the company's timekeeping training before they begin working full-time hours.
14. Timesheets must be maintained for at least two years.
That means they must be kept in a secure and easily accessible location should the DCAA or any government agency require you to produce copies of them. Hour Timesheet keeps the timesheets indefinitely for all employees, current and past.
15. Monitoring of employee timekeeping compliance should be conducted by audit or floor checks randomly throughout the year.
Unfortunately, DCAA timekeeping compliance is the reason government contractors fail an audit. Hour Timesheet can help. We have the employee and contractor time tracking experience to ensure total compliance. Sign up for Hour Timesheet today and work with an experienced implementation rep to review your account for total compliance. All for FREE.